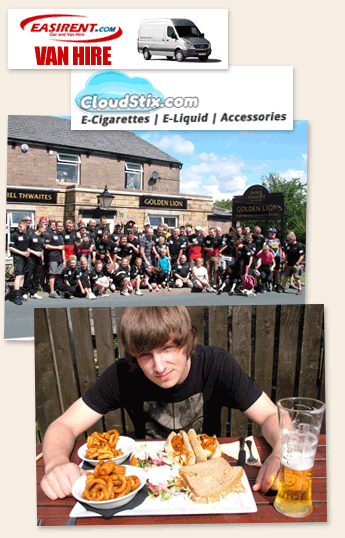 wiganworld has a couple of new local sponsors, please show your support by taking a look. Firstly, CloudStix.com provide e-cigarette products at low prices and Easiirent.com provide cheap car and van hire in Wigan.
We've done 3 charity bike rides this year along the Leeds/Liverpool Canal. Photos can be viewed here:
June - in aid of Christies.
July - in aid of Steve Prescott Foundation.
August - in aid of Derian House.
A big thank you to Scholes Malc for arranging these as he does every year. Thanks to Malc and the crew, many thousands of pounds has been raised for local charities.
The wiganworld album is reaching another milestone! We're around 75 photos short of 20,000 - what an achievement! Thanks for all the contributions and please keep them coming. I will be adding more on behalf of visitors soon.
My son (Thomas) and I have walked another canal in full. Our third, the Lancaster Canal was brilliant and we enjoyed every step. We're thinking about the Huddersfield Canal next? Any other suggestions? The photos can be seen here.
Between updating wiganworld, I've been busy at work, had the family to look after and have been on trips to London (work related). Whilst in London I bumped into the legendary Sir Tom Jones! Whilst in Wigan on a weekly shop I took this photo in Tesco, lol.
Whilst I'm talking about work... We're moving premises in the next couple of weeks. On to bigger and better things so it's goodbye Standishgate! Will update more later.
Finally, Wigan Family & Local History Society deserve a big mention. They have been going for years but unfortunately, member numbers are declining. We need your support - why not join us? If you live locally please take a look at the website and think about coming to a meeting or two, thank you.